Provide your calves with the best nutrition possible
Helping your calves reach their fullest potential is good for their health, welfare and productivity.
Our most popular product line, Elite Milk Replacer is an all-milk product with protein levels ranging from 18 to 24 perc…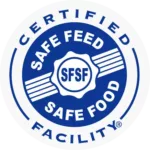 Create Your Own Custom Milk Replacer Blend
Interested in creating your own custom blend of milk replacer, milk based ingredients or speciality products? We offer custom blending options. Our highly skilled employees use robotic assistance to ensure your custom mix gets done quickly and efficiently.
Create your own specifications for your products. If you need assistance, our staff nutritionist will ensure your products are adequately balanced to optimize your feeding program.
Private Label Manufacturing of Milk Replacers
We specialize in private label manufacturing of milk replacers. Each milk replacer can be tailored to your specifications or you may choose from our proprietary Calfmilco, Advanced Milk and Newmilk labelled products.
Esmilco's milk replacers are manufactured and instantized with a unique cold process that is very gentle on the nutrients and provides excellent mixability. We also handle specialty products for the feed industry, including electrolytes, probiotics, scour treatments and Optifat for dairy cows, goats and show animals.