Advanced Jersey Milk Replacer Max
Advanced Jersey Max Milk Replacer improves Jersey calf performance by closely matching the protein and fatty acid profile typically found in whole milk from Jersey cows, with added vitamins and minerals.
Advanced Jersey Milk Replacer Max
The Advanced Jersey Milk Replacer Max formula is higher in protein, vitamins and minerals so that it more closely resembles the quality of milk produced by Jersey cows.
Available Packages : 50lbs bag
Detailed Product Information
| | |
| --- | --- |
| Milk protein | Allows for easy digestibility and outstanding performance |
| Animal fat & coconut oil | Long and short chain fatty acids, mirroring whole milk, resulting in easier digestibility |
| Additional amino acids | A combination of essential amino acids which the calf can synthesize |
| Vitamins & mineral fortification | Meets nutritional needs to provide optimum growth and complete nutrition |
| Chelated trace minerals | Better utilization and absorption of nutrients, and enhancement of the immune system |
We understand the importance and impact of optimum calf nutrition on your business.
We use edible grade milk ingredients including skim milk and whey protein concentrate.
Fats are incorporated into our milk replacers by both cold processing and spray drying to help ensure nutrients are unharmed and at their optimum value for a more even absorption of energy by the calf.
Our products are mildly acidified and fortified to support a healthy and efficient working digestive system.
All our products are available with Summit Pack, our exclusive combination of natural feed supplements designed to support a healthy and efficient digestive system.
All Esmilco brands can be customized; we know each farm is unique.
| | |
| --- | --- |
| Protein | 28% |
| Fat | 25% |
| Medicated Options | Lasalocid, Decoquinate, Clarify, Oxytetracyline / Neomycin |
| Additional Options | Direct Fed Microbials, Summit Pack |
Mixing Directions
For the best mixing results, start by adding half of the total amount of water needed. USE WARM WATER (120-140 degrees Fahrenheit). Add the milk replacer and mix into a uniform solution. Add additional, cooler water to equal the total amount and reach a final drinking temperature of 102-105 degrees Fahrenheit.
Feeding Directions

| Age of Calf | Ounces of Milk Replacer | Quarts of Milk Replacer Solution | Feedings per Day |
| --- | --- | --- | --- |
| Week 1 | 8 oz. | 2 qt. | 2 |
| Week 2 | 10 oz. | 2.5 gt. | 2 |
| Week 3-6 | 12 oz. | 3 qt. | 2 |
| Week 7-8 | 12 oz. | 3 qt. | 1 |
* Always follow the feeding directions on the tag of your product. These feeding directions are for Esmilco products only. Milk replacer feeding levels are a guide only. The feeder determines the actual amount fed, depending on the calf size and condition.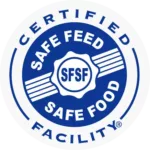 Create Your Own Custom Milk Replacer Blend
Interested in creating your own custom blend of milk replacer, milk based ingredients or speciality products? We offer custom blending options. Our highly skilled employees use robotic assistance to ensure your custom mix gets done quickly and efficiently.
Create your own specifications for your products. If you need assistance, our staff nutritionist will ensure your products are adequately balanced to optimize your feeding program.
Other Products You Might Like