For Maximum Performance of Baby Lambs – Lamb Milk Replacer is formulated to meet the entire nutritional requirements of the lamb from the second day of life to weaning. It is the ideal replacement for ewe's milk.
The ewe is often not able to supply enough milk for her lambs, especially lambs from more prolific breeds producing triplets or quads. To reduce the pre-weaning mortality, it becomes necessary to rear a part of the lambs away from the ewe. By rearing part of the lambs on Lamb Milk Replacer, the amount of milk left for the lambs on the the ewe increases, enabling them to grow faster.
Available Packages : 50lbs bag, 8lbs pail, 36lbs pouches (6x 6lbs pouch
Detailed Product Information
High quality milk proteins and a homogenized edible fat blend with coconut oil that is highly digestible resulting in very efficient feed conversion and optimum growth rate.
Fully fortified with vitamins and minerals
Contains a low level of lactose since the lamb is relatively intolerant to lactose
Provides probiotic strains with excellent stability. It is a natural, non-medicated milk enhancer that populates the gut with beneficial bacteria giving the lambs the best possible start.
Mixes easy and stays in solution
Lamb Milk Replacer can be used to save orphan lambs, weak lambs, unclaimed lambs and lambs from multiple births.
Feed colostrum for at least the first 24 hours of life. If ewe's colostrum is unavailable, cow's colostrum can be used.
Assist lambs for the first day or two on the feeding device used.
Provide a dry, warm and draft-free pen to start lambs on Lamb Milk Replacer.
Provide a high quality lamb starter feed at one week of age. Lambs should be offered fresh water free choice.
Lambs can be weaned at four to six weeks of age and weighing at least 25 lbs.
Keep milk replacer feeding equipment clean.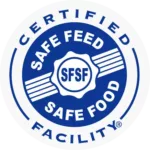 Create Your Own Custom Milk Replacer Blend
Interested in creating your own custom blend of milk replacer, milk based ingredients or speciality products? We offer custom blending options. Our highly skilled employees use robotic assistance to ensure your custom mix gets done quickly and efficiently.
Create your own specifications for your products. If you need assistance, our staff nutritionist will ensure your products are adequately balanced to optimize your feeding program.
Other Products You Might Like